Michele Wood - The Official Site
I See the Rhythm of Gospel Poster
Sale price Price $25.00 Regular price
Poster size: 31 1/2 x 23 5/8
Description: 
I See the Rhythm of Gospel Poster image is a time from my childhood. I recalled this image as I had to come up with an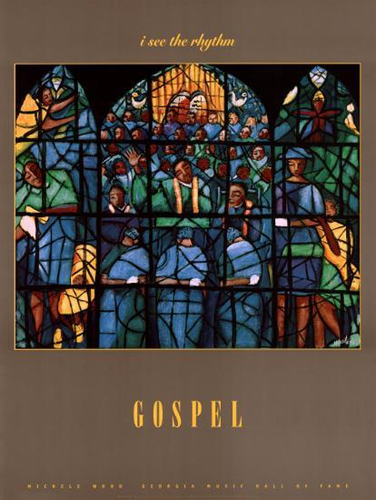 image for the I See the Rhythm book.  If you look closely you will see on one side my mother getting me ready for church. On the other side, you will find us dressed for church. Mother usually was last to get dressed. This particular church we attended was a Baptist church that was at the end of our street.  The church was full of stain glass windows and small on the inside. I remember sitting on dark wood pews and in awe of the Ushers. I was attracted to the white gloves the Ushers wore.  As I was sitting next to my mother, I heard an enthusiastic preacher and sounds coming from the back room. I inquired about the noise but mother shhh hushed me up.  People would enter but no one was coming out. The stain glass windows were beautiful. Now, I realize they were speaking in tongues. I am no longer a Baptist but defiantly have Baptist roots. 
I See the Rhythm of Gospel poster is from the book I See the Rhythm book. Here is a little more about the book. From Michele Wood and Toyomi Ingus, the award-winning artist and author of Going Back Home, comes their second book, i see the rhythm, a uniquely visual and poetic introduction to the history of African American music.

Beginning with the roots of black music in Africa and continuing on to contemporary hip hop, i see the rhythm takes us on a musical journey through time. We are invited to feel the rhythm of work songs on a southern plantation, to see the rhythm of jazz from a balcony in New Orleans, to dance to the rhythm of swing at the Savoy in Harlem, and to rejoice to the rhythm of gospel from a church pew on a Sunday morning.

Each stunning spread-including art, poetic text, a description of the music style, and a time line of selected historical events-encompasses the spirit of the times and the strength of the communities where the music was born. Igus's lyrical text, matched with Wood's daring vision, captures the feel of each style of music and pays tribute to the musicians who gave the music life.

i see the rhythm is an inspiring celebration of African American music and the far-reaching impact it has had on the world.